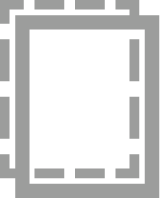 Double EasyFix. Seeing and being seen.
Point-of-sale material, exhibition presentations,     designing (waiting) rooms or interior. These are a few examples of what you can do with EasyFix Textile frames.


Transform your ideas into design.
Boundaries are there to be stretched. Challenges were made to be taken up. Nothing is impossible. Are you wondering what EasyFixframe.nl can do for you?

Then please contact us or download the brochure.



Profile:
Double (thickness 44mm)
Take a look at our other models: